dominoGuru.com
Your Development & Design Resource
The OpenNTF.org release of Time Tracker v1.1!
11/13/2009 12:47:00 PM by Chris Toohey
I've just published version 1.1 of Time Tracker to OpenNTF.org and made it available for immediate download.
And what's changed with the version 1.1 release?
Based on feedback, I've streamlined the Lotus Notes Client Sidebar Widget UI design and it can now handle thinner Sidebar resizing: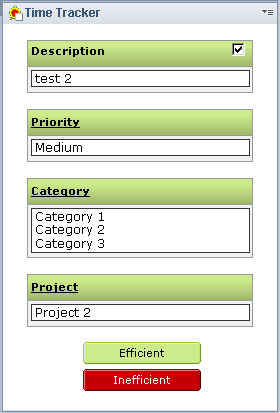 Basically, instead of clicking on a dropdown, you can click on the field label and you'll be prompted for your selection. And - as you can see - I've moved the elective selection option to sit on the Description label.
I have also added an About this Application Design Element reviewing the purposes of the Time Tracker application, as well as updated the Notes Client Launch options to show this About on initial launch or post-About design change.
Have anything else you want to see in this application? Please let me know and I'll see what I can do!